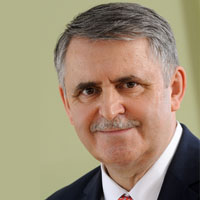 Waldemar Siwiński
Waldemar Siwinski, founder and president of the "Perspektywy" Education Foundation, Vice President of the IREG Observatory on Academic Ranking and Excellence.
Waldemar Siwinski has broad experience as author of professional rankings. He prepared over 70 rankings of universities, business schools and secondary schools in Poland. Waldemar Siwinski has extensive and rich media background as writer, journalist and manager. He served as president of the Polish Press Agency (PAP), was bureau member of the European Alliance of News Agencies (EANA); board member of the European PressPhoto Agency (EPA); member of the International Press Institute. As President of "Perspektywy" Foundation he is active in Academic Cooperation Association (ACA). He was the founder of the first magazine on computers in Poland.
Waldemar Siwinski is author of several books including a documentary book on "Chernobyl" nuclear disaster. He founded and headed for several years "Perspektywy Press", a publishing and marketing company specializing in education and science. He graduated from the Faculty of Electronics of the Warsaw University of Technology; he also studied at the postgraduate School of Diplomacy in Warsaw.